Welcome to jeffbrainart.com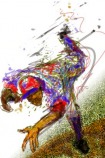 I draw and paint baseball. I think you will enjoy the energy, spontaneity and life of these pieces. The site will be growing, so please check in often. You will find a variety of recent work in the galleries linked to the left.

I am also working on making images available as glicée prints. In the meantime, drop me a line if you are interested in custom prints, framed or unframed. Thank you.

---